This research seminar is hosted by the Centre for Research into Accounting and Finance in Context (CRAFiC) at Sheffield University Management School.
Speaker bio

Prof. Dimitrios.Gounopoulos, University of Newcastle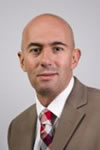 Professor Dimitrios Gounopoulos is a Professor in Finance in Newcastle University Business School, University of Newcastle. Dimitrios worked previously for the University of Sussex (School of Business Management and Economics), University of Surrey (Surrey Business School) and the University of Manchester (Manchester Business School). He has also worked on several private companies and government consulting projects related with electronics and telecommunications. He obtained degrees in Electrical and Electronic Engineering from Universities of Bradford and Leeds. In addition he holds an MBA from Leeds University Business School and a PhD from Manchester Business School - University of Manchester. Finally he holds a Postgraduate Certificate in Academic Practice from the University of Surrey.
Dimitrios main Research Interest lies in the areas of International Accounting and Corporate Finance. He specializes on Initial Public Offerings (IPOs) and he is known for his continuous research involvement on this field. Dimitrios research also address issues in Bonds Structure, Corporate Governance, Executive Compensation and Earnings Management.  His work has attracted the interest of the markets and as a result of this he was honoured with a Gong Ceremony by the Oldest Stock Exchange in the world, the NYSE – Euronext Amsterdam.

Programme
12.30pm-1pm: A light lunch will be served in the Courtyard Cafe
 1pm-2pm: Seminar in meeting rooms 1&2 (E Floor)